If you're looking for an entry-level kit or are new to custom keyboards, you should definitely take a look at AKKO MonsGeek M1 Kit.

MonsGeek is a brand new sister company under the Akko umbrella. They are a computer peripheral brand, currently with a focus on keyboards. Their objective is to bring the best there can be for those who are on budget.
Their first keyboard to reflect their mission is the MonsGeek M1. It is a 75% CNC full aluminum keyboard with a volume control knob and per-key RGB. This little keyboard weighs a whopping 1.96kg unbuilt, so you can bet the material is premium.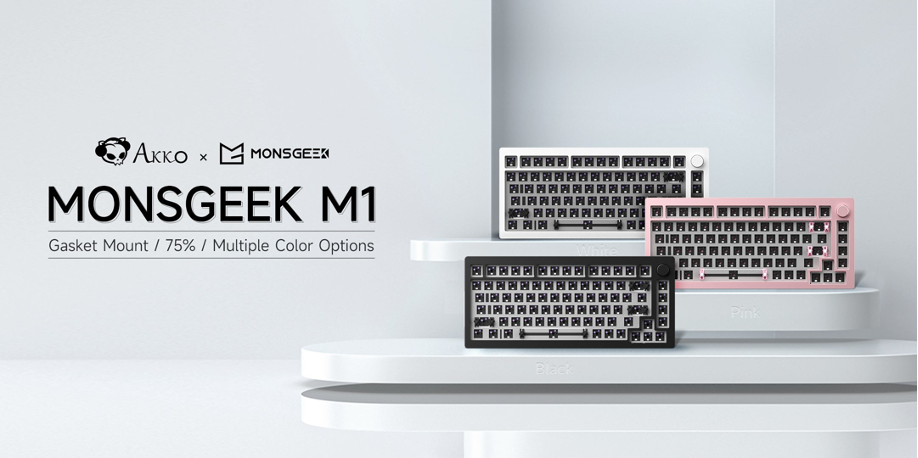 Appearance
The MonsGeek M1 as mentioned before is a 75% keyboard. This means that it does not come with a number pad or the extensive key cluster above arrow keys. Instead, the keyboard is a neat compact package, allowing programming function keys up to F13, but still retaining 4 keys of your choice on the side for when you might need a key like page up, or page down. The 4 keys, arrows and the alphas are separated by blockers, meaning that you will be easily able to distinguish where your hand currently is without having to glance down at your keyboard. On the sides the M1 is decorated by gorgeous accents in gold.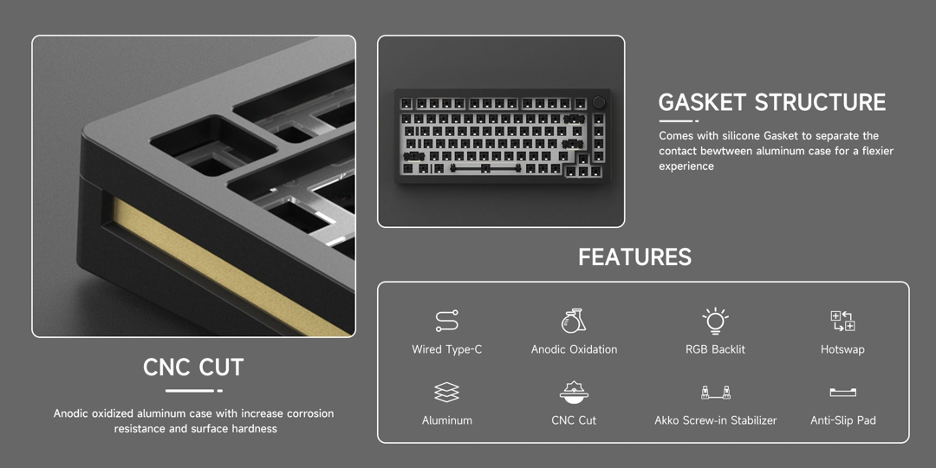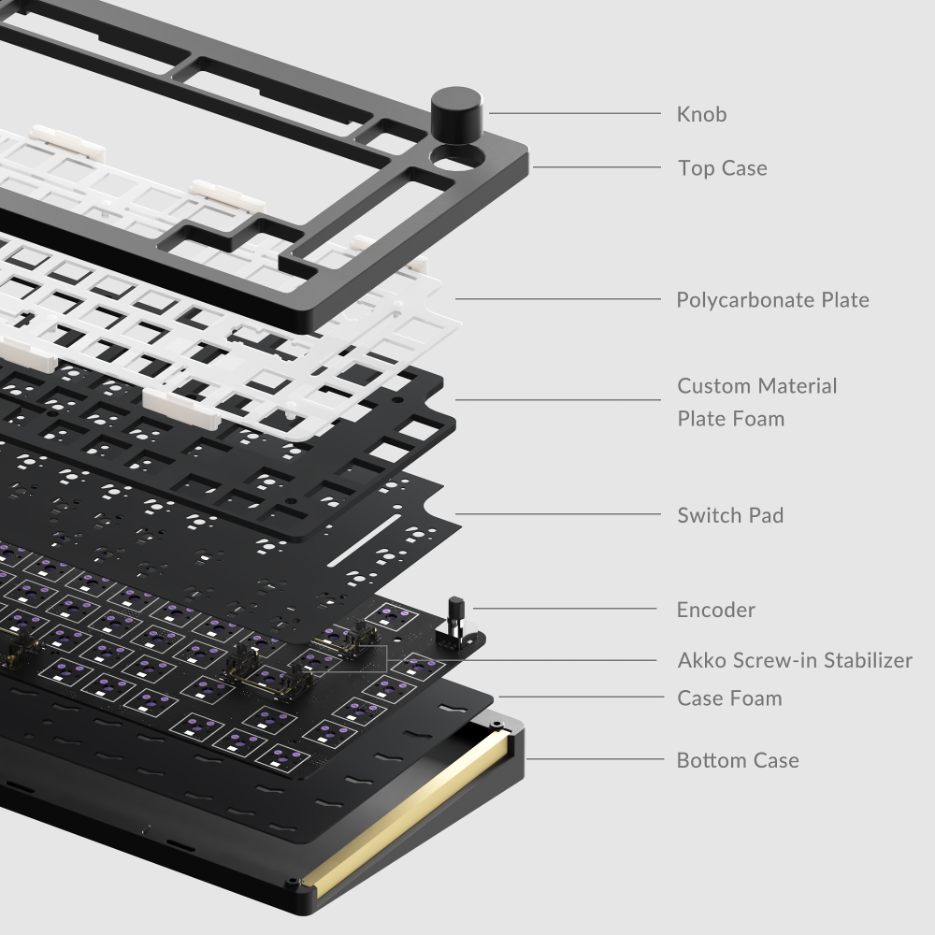 Functionality
There's an awesome feature available on this keyboard, and that's the fact the keyboard has a QMK (quantum mechanic keyboard), which is a programming language allowing you unlimited options of reprogramming your keyboard to your liking. The way you can take advantage of this feature is through a program called VIA, which is essentially a graphic interface for the QMK programming language.. You can reprogram your keys on a multilayer basis, getting truly the best out of your keyboard.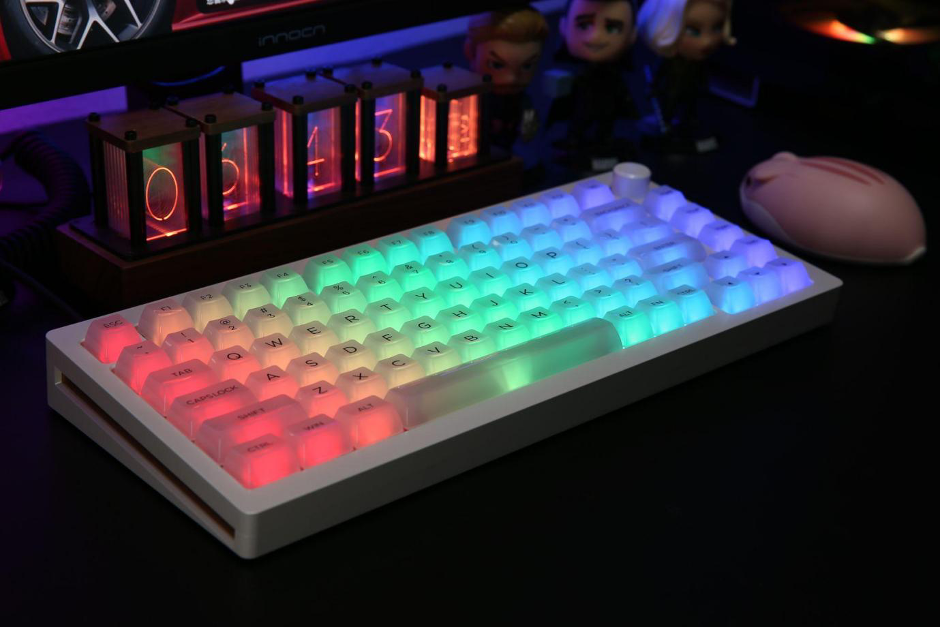 What's included
You are probably wondering what's included with this little thing. Well, trust me, you will be surprised. We have gone ahead and done proper prototype testing to see what we could implement for the international market. As such, we have decided on the following – the keyboard comes with dry screw-in stabilizers, so you can modify them in whichever way you would like. It of course comes with a cable, and then it comes with slightly more specific items.
The first would be teflon pads, which you can use to do the so-called "force break" modification. This adds a tiny gap between the two halves of the aluminum case, meaning that there can't be any metallic resonance between the two. The next would be a pre-cut tape for the tape modification, to make the keyboard have a more marbly sound. And last but not least, there's also insulation for the case and case foam made out of a custom material.
The MonsGeek M1 is truly a wonder, especially because of its unbeatable price, considering all of its features. The barebones kit starts at just €129,99. If it has caught your eye, feel free to check this link to buy it now!

Lynn Martelli is an editor at Readability. She received her MFA in Creative Writing from Antioch University and has worked as an editor for over 10 years. Lynn has edited a wide variety of books, including fiction, non-fiction, memoirs, and more. In her free time, Lynn enjoys reading, writing, and spending time with her family and friends.