As we languish through the winter's remaining dark weekends (perfect for movie-watching), we're calling all fellow cinema aficionados! Have you, too, been looking for new ways to quench your thirst for thrilling and off-beat dark comedies? If so, today we are revisiting a treasure from the cinematic archives. Enzo Zelocchi's playful 2013 thriller is a bold showcase of the actor-writer-director's phenomenal multi-talent. In a real-world that seems to become more diabolically gloomy by the day, it provides just the playful respite that avid entertainment fans require.
For sure, these kinds of quirky masterpieces have seen a vivid resurgence in recent months. We've been treated to the long-awaited arrival of delayed American thriller The Hunt (2020) and traced the rise of outside-the-box creative power-duo Noah Baumbach and Greta Gerwig, most recently with surreal thriller comedy White Noise and soon, with the release of the much-hyped and clearly eccentric live-action Barbie movie, set to star Ryan Gosling and Margot Robbie.
Of course, Enzo Zelocchi shares the drive to be both behind the camera and in front of it with fellow Hollywood stars Gosling and Gerwig, who have both historically written, directed, and starred in their own creations. In this area, Zelocchi is unquestionably a veteran, with numerous films under his belt realized in such an unusual multi-faceted capacity. Titles like My Little Princess (2010), Mantus (2014), and Angels Apocalypse (2015) come to mind. Not to mention the artist's most recent vision, No War (2022); a project set in war-torn Ukraine for which Zelocchi cast a real-life child Ukrainian refugee as his heart-wrenching co-star.
Silence Speaks is a Film of Our Times
So why is Silence Speaks worth a revisit ten years after its initial release? As it turns out, simultaneously funny and hard-hitting, Zelocchi's penmanship was somewhat prophetic—tackling issues that have become central to the recent Zeitgeist, such as domestic abuse, violence towards women, sexual identity, and more. Crucially, it speaks to the collective evolution of modern society. While Zelocchi couldn't have foreseen the coming #metoo movement and the contemporary LGBTQ power-struggle—as antiquated attitudes are exposed and addressed—it would be easy to imagine that he had gotten hold of some kind of crystal ball.
Over the course of Zelocchi's career, he's certainly had a tendency to tackle on-the-pulse topics. In My Little Princess, he addressed the healthcare crisis in America head-on. Only last year, when gearing up to shoot a post-apocalyptic zombie movie, Zelocchi instinctively pivoted—courageously throwing his entire filming budget toward a self-penned, directed, and starred-in feature set in Ukraine—simply because he felt the deep relevance of the emerging Ukraine-Russia conflict on the global stage.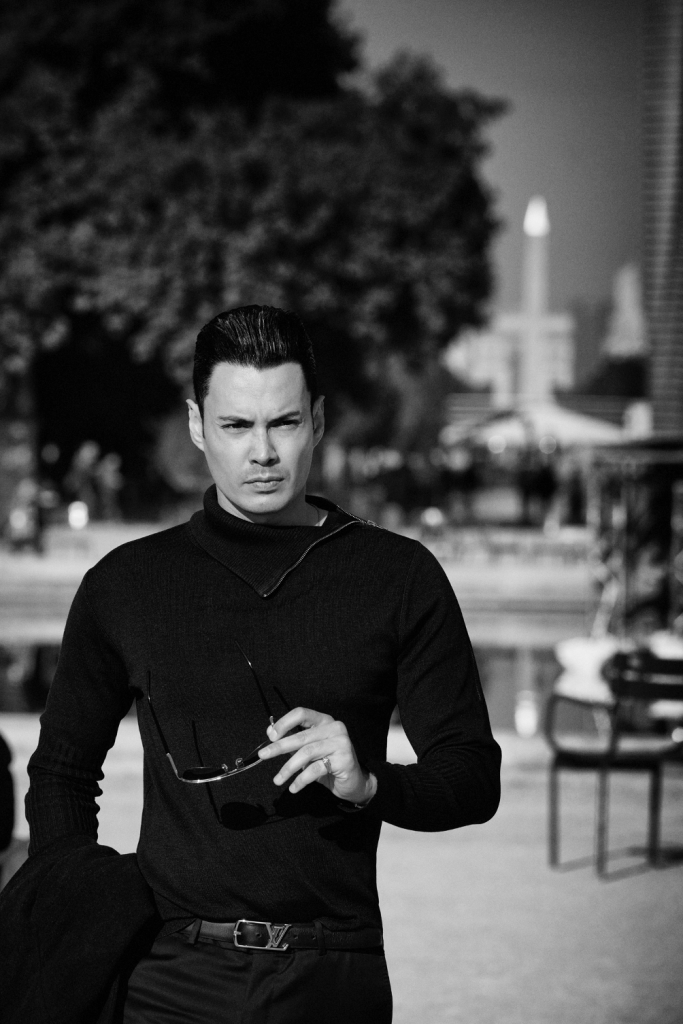 With all of this in mind, it seems pretty poetic to draw Since Speaks out from the archives a decade after its creation. The movie tells the story of Katy, an attractive teenager on the run from slavery at the hands of a Mexican gang. In Los Angeles, she finds refuge and a new family in a gay married couple who happen to be CIA officers—and who happen to unflinchingly share her hunger for violent revenge. Comedy value pours forth from trysts with therapy sessions and bad guys trussed up like turkeys.
Vitally, in the current era—which is one that we all experience and proactively escape from as movie viewers—there is much to be said for discovering our own therapy in some morbid humor and the messy satisfaction of revenge.
Accolades for Enzo Zelocchi's Silence Speaks
Following its initial release, Silence Speaks found an audience around the world and numerous accolades along the way. These included a Best Director nomination and Best Actor win for Zelocchi at the Hong Kong Movie Awards; a Best Director, Best Writer & Screen Play, and Best Outstanding Performance award at the Hollywood Variety Movie Awards; plus finally, a Best Director Award at the Golden Indie Movie Awards.
Soon, Silence Speaks dropped on numerous platforms worldwide, including in Italy, France, Portugal, and Greece, with a successful movie premiere in Rome, Italy. More recently the film enjoyed a re-run release in limited movie theaters in Los Angeles and around Europe. This supports our working theory that this will be one of those cinematic creations that keeps on giving and coming back around—finding new audiences to connect with in each generation of film lovers.
For now, we can simply take pleasure in revisiting this movie and enjoying it in today's new contemporary context. That'll be sure to tide us all over until the next darkly humorous and thought-provoking feature grabs our attention. You never know; as Zelocchi works away on four more upcoming features, the next one that hooks us all might well be his too.
Enzo Zelocchi – "NO WAR" – Trailer
Enzo Zelocchi – Midnight in Paris

Lynn Martelli is an editor at Readability. She received her MFA in Creative Writing from Antioch University and has worked as an editor for over 10 years. Lynn has edited a wide variety of books, including fiction, non-fiction, memoirs, and more. In her free time, Lynn enjoys reading, writing, and spending time with her family and friends.